CPI Celebrates a Master's Milestone for 5 its Students
Five students working with CPI successfully submitted their master's theses at the end of 2021. CPI offers a variety of engaging research opportunities for motivated master's candidates and this year's recent batch of candidates displays an array of topics.
Master's candidate, Sascha Bernard, completed his thesis entitled "Synthesis and characterization of new hydrogel precursors and investigation of their application as multiplexed hydrogel beads". His thesis aimed to adapt and enhance a multiplexed particle system which could be used in the future of precision medicine.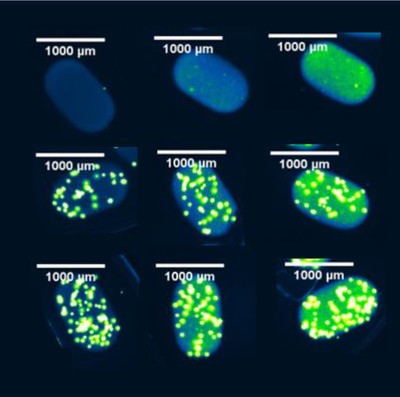 Examples of barcoded hydrogel beads loaded with different amounts of analyte.
Highlighting another aspect of CPI's research areas, master's candidate Marcel Eckert completed his thesis entitled "Photo-crosslinked poly(alkyl-methacrylate) copolymers and paraffin blends thereof as fluorine-free, hydrophobic, and self-assembled coatings". Here Eckert aimed "to synthesize hydrocarbon-like polyacrylate thin film coatings that yield superhydrophobic surfaces similar to p(PFDA-co-MABP) … to establish a viable alternative to perfluorinated motifs in surface science and -modification."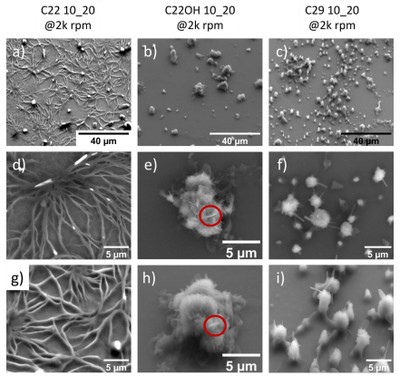 Examples of surface morphologies studied by Marcel Eckert.
Our other celebrated master's candidates include:

Fabio Batti
Investigation towards kinetics and applications of grafting-through for modified surfaces
Shubham Tiwari
Foam Formation of The Diazo Containing Polymers Via CHic Mechanism

Marco Dante Kluth
Triggering motion by light: The effect of an aryl azo pyrazole crosslinker in liquid crystalline networks

CPI takes great pride in having played a role in each and every one of their academic journey's and hopes to see them all bring the same dedication and scientific intrigue into their respective next chapters!