Macro 2014 - World Polymer Congress
The biennial IUPAC World Polymer Congress just took place in Chiang Mai, Thailand and brought together more than 1000 polymer scientists from around the world. Dr. Prucker gave a presentation on artificial cilia and Prof. Rühe delivered one of the six keynote lectures.
In his presentation, he focussed on the importance of structure or topography of polymeric materials and coatings in addition to the chemical properties of the polymers. He demonstrated the influence of both parameters in a number of applications ranging from surface wetting to the behavior of cells on surfaces and to the performance of lab-on-chip architectures.
The presentation triggered many discussions after the talk which inspired us and others for our future research.
Aside from the scientific side, we also enjoyed to learn more about the rich thai culture and to meet many old friends from around the world.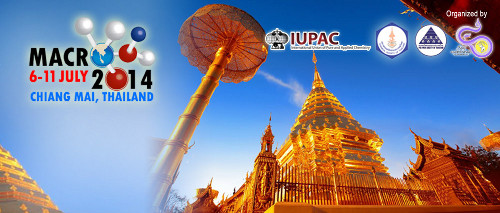 More on the congress can be found at macro2014.com.
We are looking forward to Macro 2016 in Istanbul.