Joint Seminar with Biesalski group at TU Darmstadt
It was time to visit an old friend: Prof. Markus Biesalski, who heads the Macromolecular Chemistry and Paper Chemistry (MAP) group at TU Darmstadt.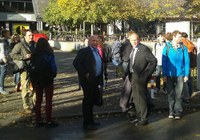 CPI headed to Darmstadt not only to enjoy an unexpected late summer day but also to learn more about the new topics that are pursued at MAP. Nine presentations from each side and around 20 posters covered all aspects in the research of both groups.
Two exciting days taught us many things about the perfect match of benzophenone and paper. We even did our own paper! That was about as exciting as it was in those old elementary school days, wasn't it?
Some snaps: