CPI Fallschool 2013
The entire group recently went uphill to the Unihaus on the Schauinsland for the 10th CPI Fallschool. The event was packed with science, songs and a hike.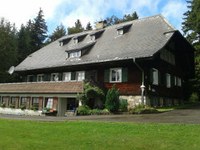 On a more or less annual basis we jump out of our daily routine for a four-day retreat in the Black Forrest. We use this time to look at our research from a little distance and discuss strategies and ideas for our various projects. The scientific program is organized into minisymposia and plenty of time is devoted to discussions in subgroups and all together.
But science is only one part of the event. The evenings are packed with with singing, performances and card playing. And no matter how scary the weather is at times - we always managed a nice hike somewhere on the Black Forrest.
Some impressions: