New Paper: Surface-Attached Hydrogels Through Spray Coating
Nathan Bentley's manuscript entitled "Protein repellent, surface-attached hydrogels through spray coating" was recently published in the journal, Advanced Materials Interfaces. Bentley is one of CPIs many talented doctoral researchers and works within Dr. Thomas Brandstetter's group.
His manuscript details the creation of a protein repellent surface by combining two methods: spray coating and CH-insertion crosslinking. This method is highly relevant for blood collection tubes, which have challenging geometric substrates for applying hydrogel precursors and should be as bioinert as possible.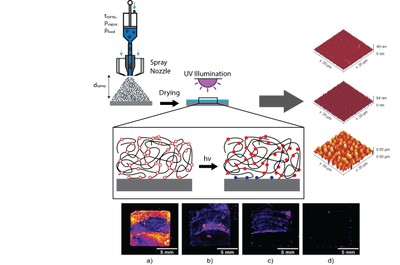 His paper is published under an open access license and can be read here: 10.1002/admi.202102359.